World . . . . . . .  meet 'Ozzy', aka GRCH TRF White River Howlin' at the Stars, JH BN CD RA DS, now a Gold Grand Champion and multiple Best in Specialty winner.  This beautiful dog splashed onto the show scene topping the heap at the German Shorthaired Pointer Club of America 2011 National Specialty Show as Winner's Dog and Best Bred By Exhibit.  He made quick work of his basic AKC Hunting title, his Beginner Novice, Companion Dog and Rally Advanced certificates, and had fun earning his Dock Diving Senior title; proving bird sense and brains along with beauty.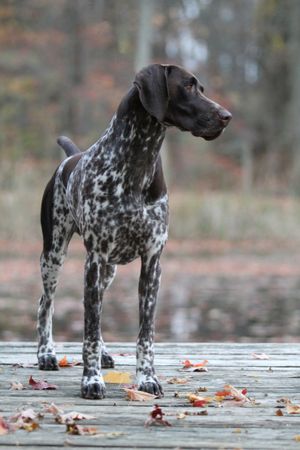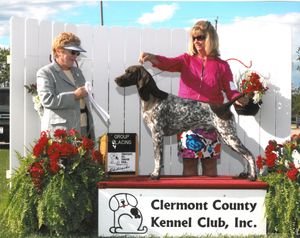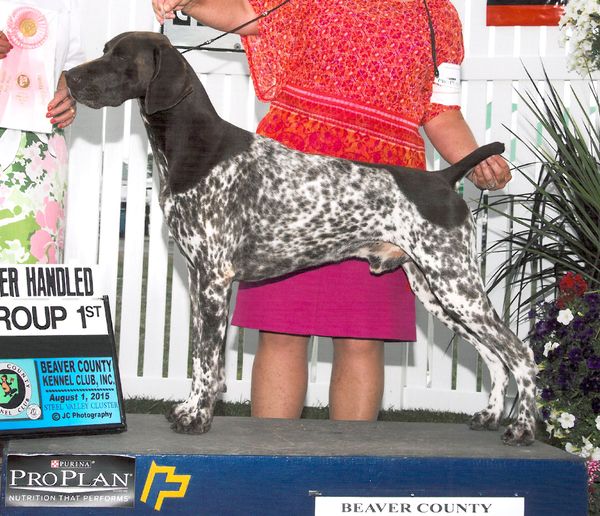 Bred by Becky Feigh and Kipp Whelan, Ozzy is a member of the "Chocolate Litter" featured in this website's History.  The pedigree is very unique and a tremendous validation of the White River bloodline.  Our great "Ziggy's" daughter bred to 19 year old frozen semen from a littermate of our foundation bitch.  Ozzy's health clearance information registers him with the Canine Health Foundation as CHIC #75799.
Cardiac Normal, Cardiologist, Echo
Cone Degeneration Genotypically normal
Penn Hip LDI = .25, RDI = .27
OFA Hips Excellent
Elbows Normal
Patellas Normal
Lupoid Dermatosis Normal
Von Willenbrands Normal/Non Carrier
Dillute Factor D/D - Non Carrier
Red/Yellow Factor E/E - Non Carrier
Degenerative Myelopathy (DM) Normal
Hyperuricosuria Normal/Non Carrier
Dominant Black K/K ; Agouti at/a: does not carry the ability to produce tri-colored offspring
CURRENT/FUTURE LITTER INFO  ** All Health 
clearance data available at 
ofa.org
**
Williwaw Kennels are proud to announce the arrival of 4 girls and 2 boys October 25th.  Proud parents are "Ozzy"
            and "Spalsh"  (pictured below)
contact Allie Silvera  Valley Center, CA
          williwawkennels@yahoo.com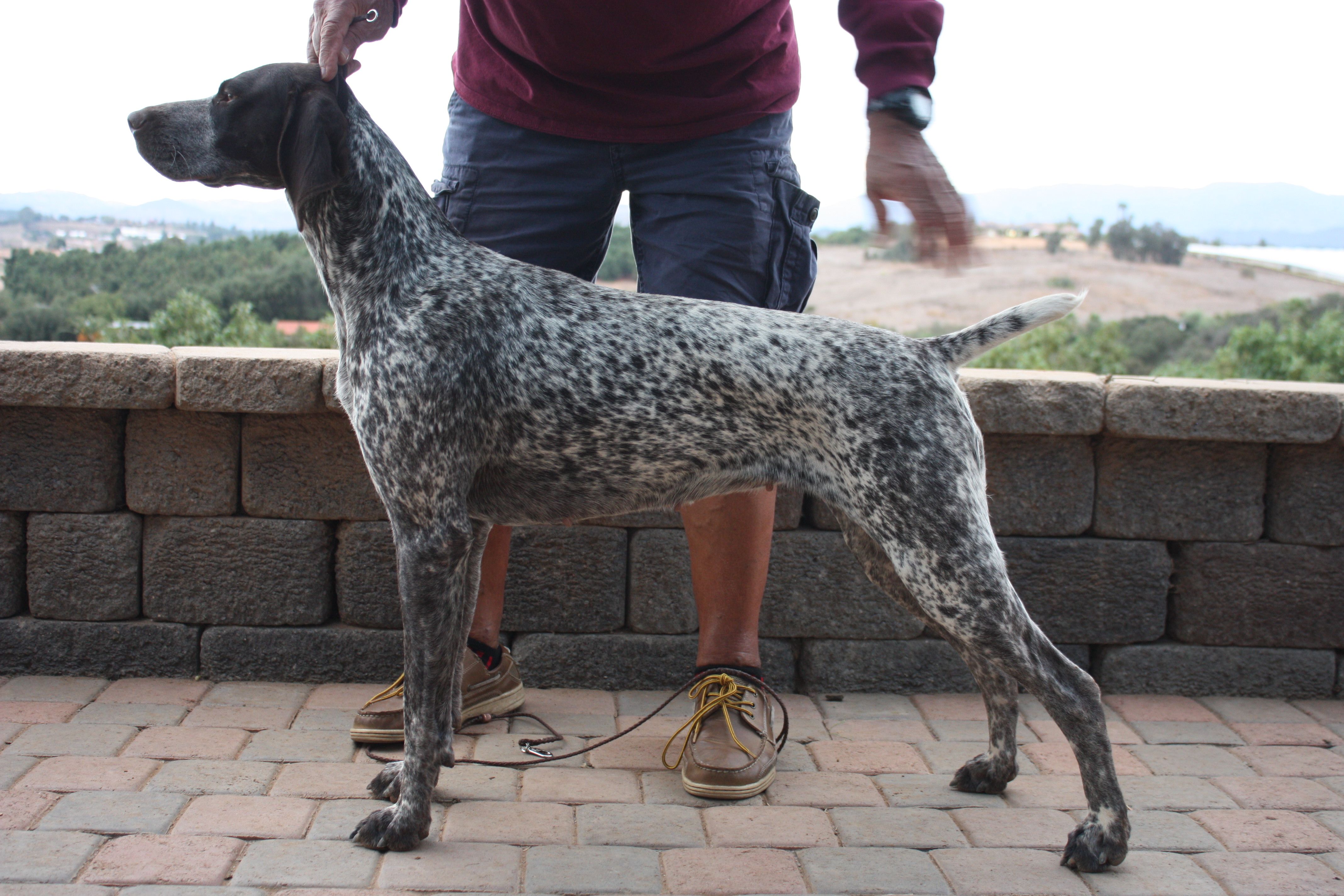 CH Williwaw Coronet Best Kept Secret
the Fan Club:

As he turns 7 years old,  Ozzy already has achieved the kind of success that attracts groupies.  We know he will prove to be a significant sire for the Breed, as evidenced by this list of 'Fans/Title Holders':
 
American/Australian CH Olde Ridge Wishing On A Star
GCH Windheim's 'n' Hideway's Home Brewed, JH BN RA
CH Highbrass Let's Dance, JH                                                                           
CH Olde Ridge Keeper of the Stars                                                           
CH Olde Ridge More Than A Memory at Fourwinds, JH
GCH Mi Karma's Purple Paramour RN,CA,NA,NAJ,CGC                                                           
CH Wannapoint's Molded In The Image of Shadywood                         
CH MiKarma Purple Dragon @ Honeybriar
BISS GCH Hideaway & Windheim's Vintage Moonshine JH RN DM RATN        
GCH Hideaway & Windheim's Mountain Moonshine                                                           
GCH Wannapoint's Sokka Just A Dog with a Boomerang                        
CH Olde Ridge Gangster in Paradise                                                        
CH Wannapoint's Kissed By A Star                                                         
Ch. Jaegersmann All That Jazz And More
CH Mi Karma's Purple Odyssey                                                                   
CH Mi Karma's Polka Dot Bikini                                                                  
CH Hideaway N Windheim White Lightning, RN RA                                    
CH Wannapoint's Howlin' at Mello Hill CGC                                             
CH Mi Karma's Passionately Purple at Olde Ridge                                 
CH White River Mark of Olde Ridge                                                           
CH MiKarma's Shades of Purple @ Karacel                                            
CH Olde Ridge Dancing Under the Stars                                                 
CH Quest's At Last Farook JH
CH Skyfall's Going For The Gold Vom Deppe Haus                               
CH Quest's Take Five Of Farook
CH T-Town N Pengles Oh Just Charge It                                     
CH T-Towne's Oh Fly Me to the Stars @ Twin Gables                   
CH T-Town N White River's Oh What A Night JH RN CGC