Now we know!  We have six beautiful babies  born February 28, dubbed our "Dust Mites"

With five boys and just one girl I'll jokingly refer to them as the 'Delta Mu' fraternity house plus housemother.   

Here's Sire and Dam;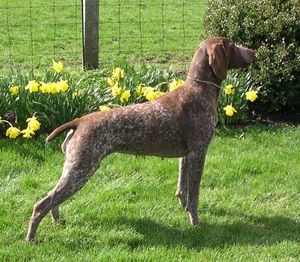 Our wonderful BISS CH White River Pixie Stardust, JH NRD

proven in the show ring, in the field, in the water and in the whelping box . . . 



Has been bred to one of Ziggy's most magnificent sons: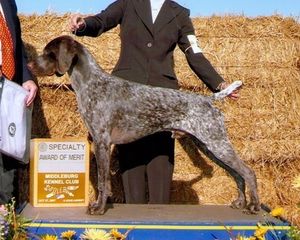 BISS CH Pengle TRF Striking Image JH

Proven in the show ring and the field.

Both "Dusty" and "Stryker" have met the health clearance requirements of the German Shorthaired Pointer Club of America, thus are registered in the Canine Health Information Center.  We know the pedigrees, we know the dogs, and we know quite a bit about thier DNA, so we're excited to watch them grow up.  Tune in as the weeks go by for new pictures.

GSPs are born white and then the 'ticking' comes in as they grow.  Though hard to see in these photos, some are already looking darker at 4 days old.  Which ones will be dark?  Which ones bright-ticked? 



See "Week Two" pics below and catch all the new developments.  We're toddling around and a few eyes are opening.  We're even getting officially registered with the American Kennel Club this week!
Week number four is a big one.  We started eating puppy food, wrestling and playing, and reacting/interacting with people on a much higher level.  Our individual personalities are starting to peek out.  Week number five even more exciting.  We got to go outside!!

Below are our first "show stack" photos, so all you nosey people out there can start to guess what we might look like when we get big.  We were pretty wiped out by the time they made us take these pictures, so some of us weren't really into it.  Our sister was so bad they had to use a 'backwards' picture of her (tee hee!) 
Week 6 - The Shape of Things to Come
The fraternity house analogy gets some legs this week as we are gettin' to be a rowdy bunch.  Play is lots more animated and creative, but we still crash pretty hard when we're done.  We've gotten outside a little when it's warm enough, and we're learning to come when we're called.  People, their pantlegs and shoelaces are the greatest fun!  Our posed photo shoot went better this week as we approach 6 weeks old.  Presented for your viewing pleasure in birth order are the official 5 1/2 week portraits.