MBISS GCH TRF White River Stars Align At Sunrise CD BN RE JH FDC CAA DCAT SWME SWM SHDM TKI. GSPCA NRD VC . . . .soon to be VCA
"Gizmo" clearly enjoys every aspect of being a Shorthair!  We haven't found anything he can't do and promise to add more exciting titles in the near future.
Bred by Becky Feigh (White River) & Kipp Whelan of Tulip Ridge Farm (TRF), Lorie Crain and Samantha Honaker (Sunrise), he has  a magnificent pedigree line bred on two iconic White River stud dogs.
HEALTH CLEARANCES  CHIC #140108               Gizmo's OFA page
          OFA HD: GSP-18702E26M-VPI
          OFA EL: GSP-EL3566M26-VPI
          OFA Advanced Cardiac:  GSP-ACA3731/15M-VPI (Echo)
          OFA Cardiac::  GSP-CA2427/29M/C-PI
          OFA CD: GSP-CD1115/5M-PI  (non-carrier)
          OFA EYES:  GSP-EYE 1285/28M-VPI
          OFA VWD: GSP-VW104/5M-PI  (non-carrier)
          OFA DM: GSP-DM122/5M/PI   (non-carrier)
          OFA LD:  GSP-LD190/15/M-PI clear  (non-carrier)
          OFA HU: GSP-HU18/5/M-PI
          OFA Patella:  GSP-PA62/29M/C-PI
          OFA Dentition:  GSP-DE20/29M-VPI
          Dilute:  D/d
          Red/Yellow: E/E
          Dominant Black: K/K
          Agouti:  at/at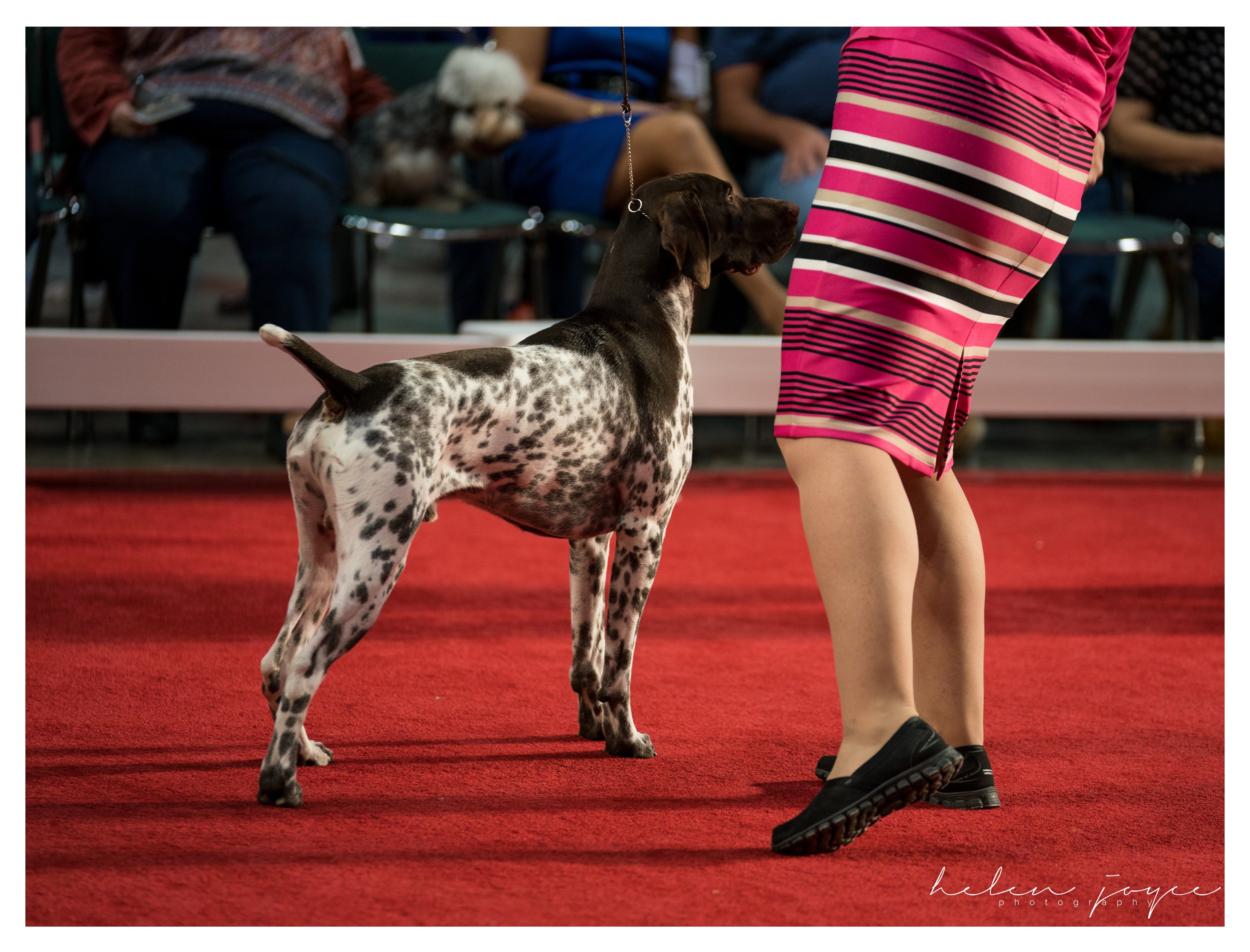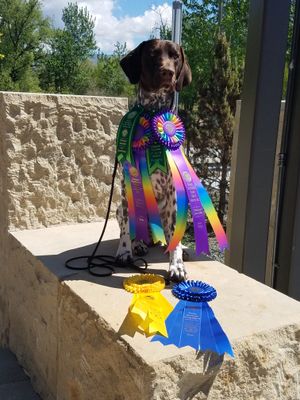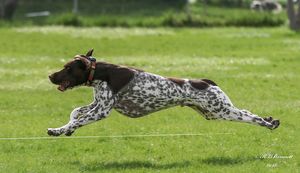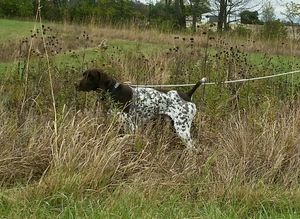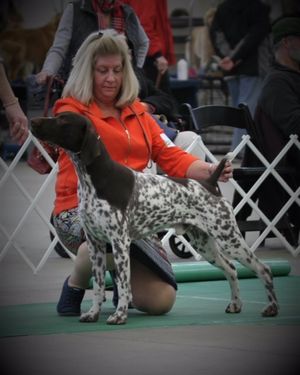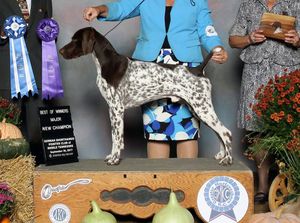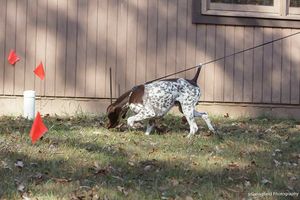 Full Pedigree: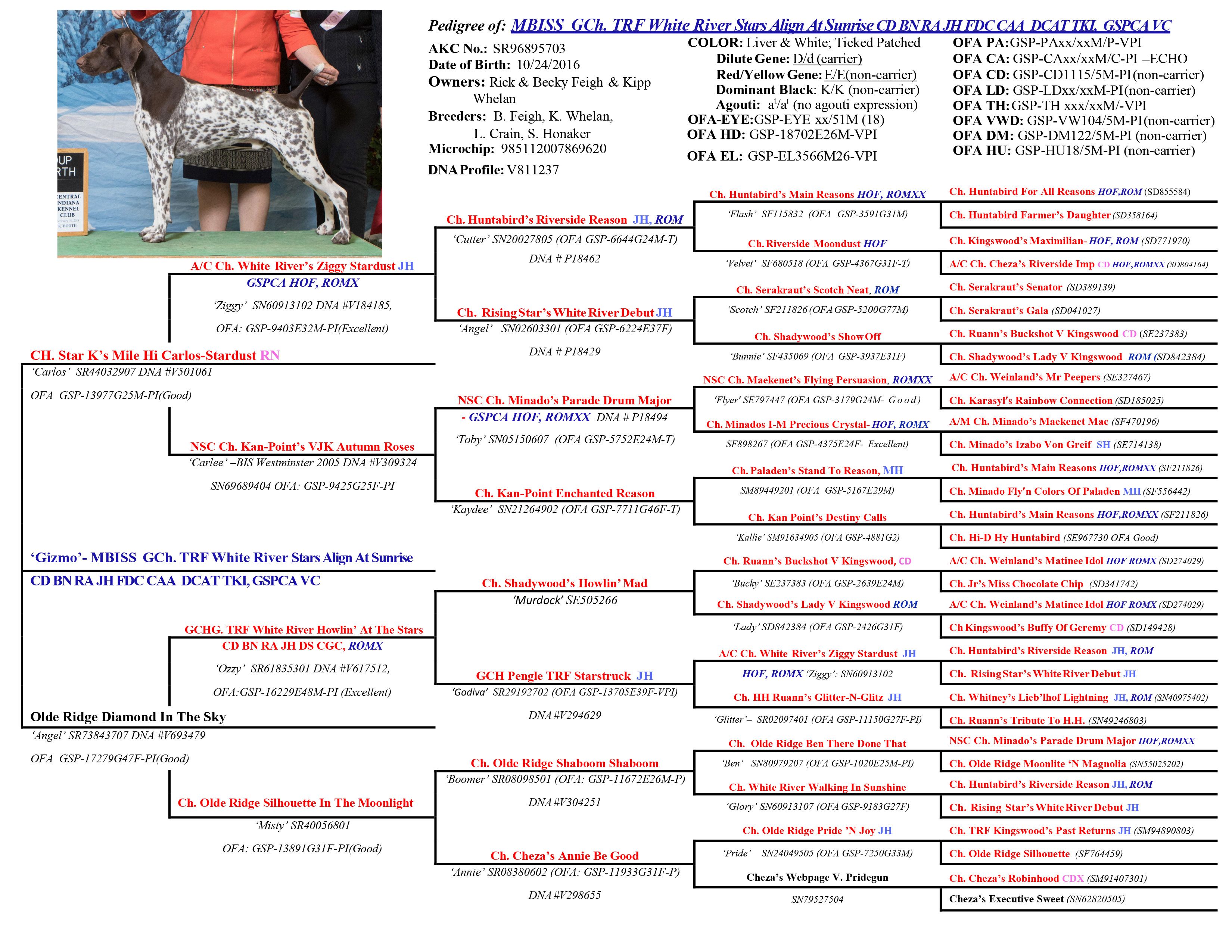 Young Adult Gizmo sons available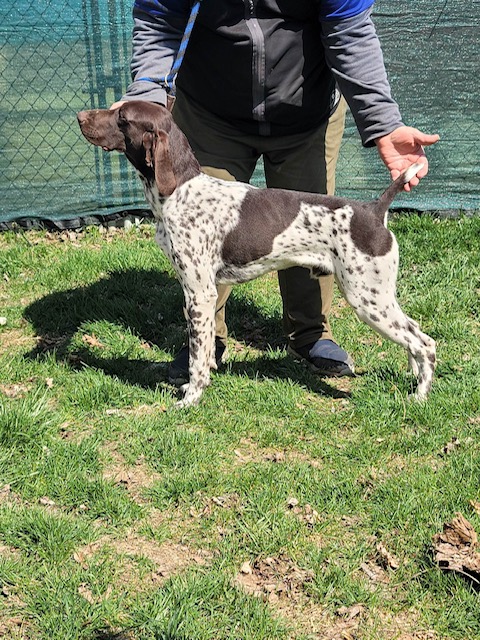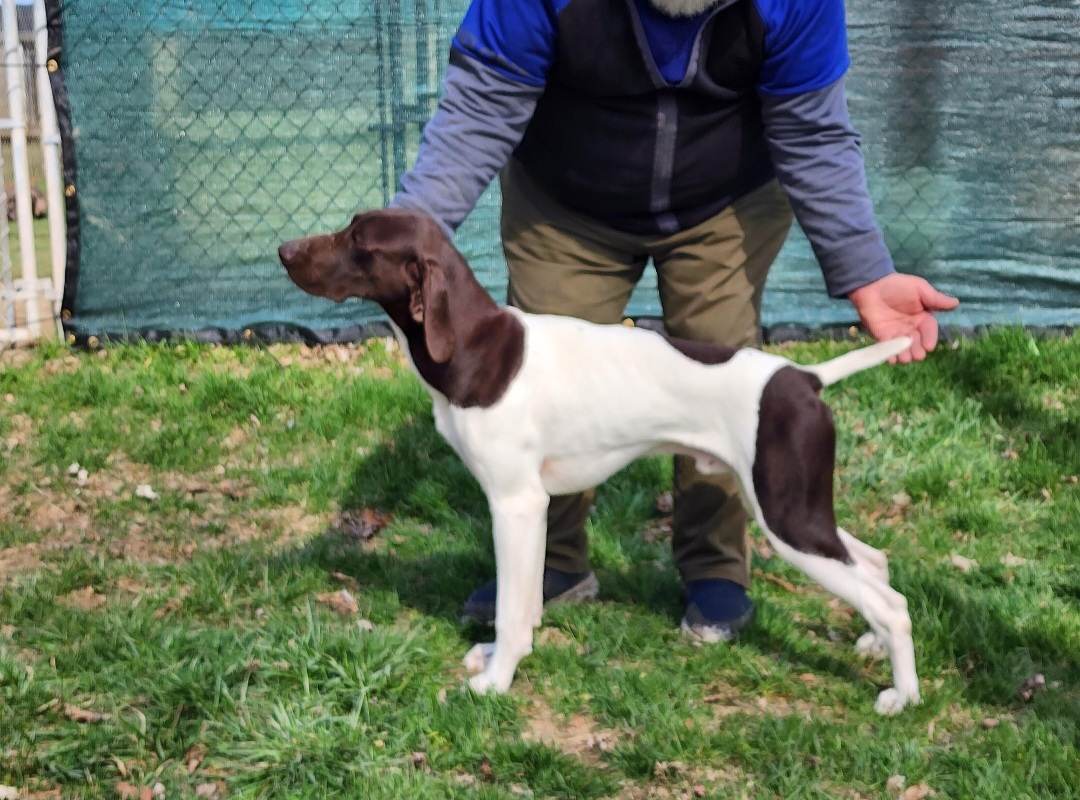 Contact Becky Feigh, rbfeigh@iquest.net,  for details
Gizmo Pups Born Late January 2023!!!       6 Males and 3 Females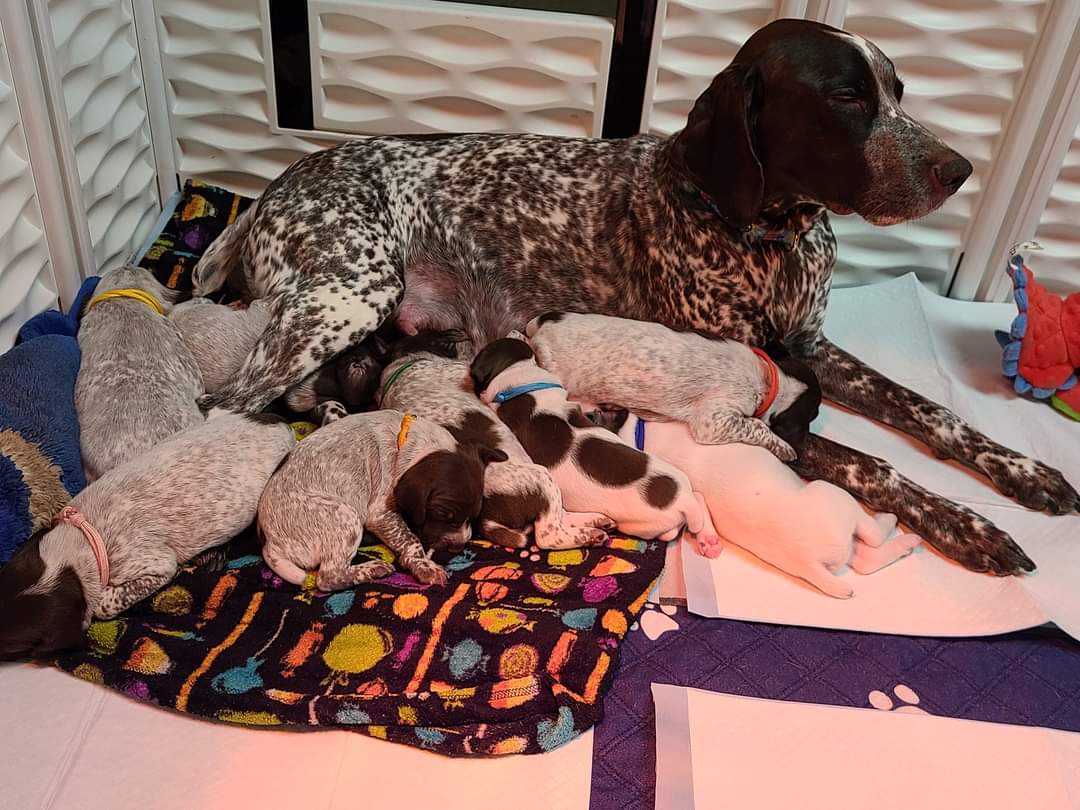 Breeder Jessica Adamczyk;   989-551-7028.  jsadamczyk@hotmail.com.    Located in Michigan
has confirmed her lovely CH Adamczyk's High Caliber Citori Blitz, DM is expecting Gizmo puppies!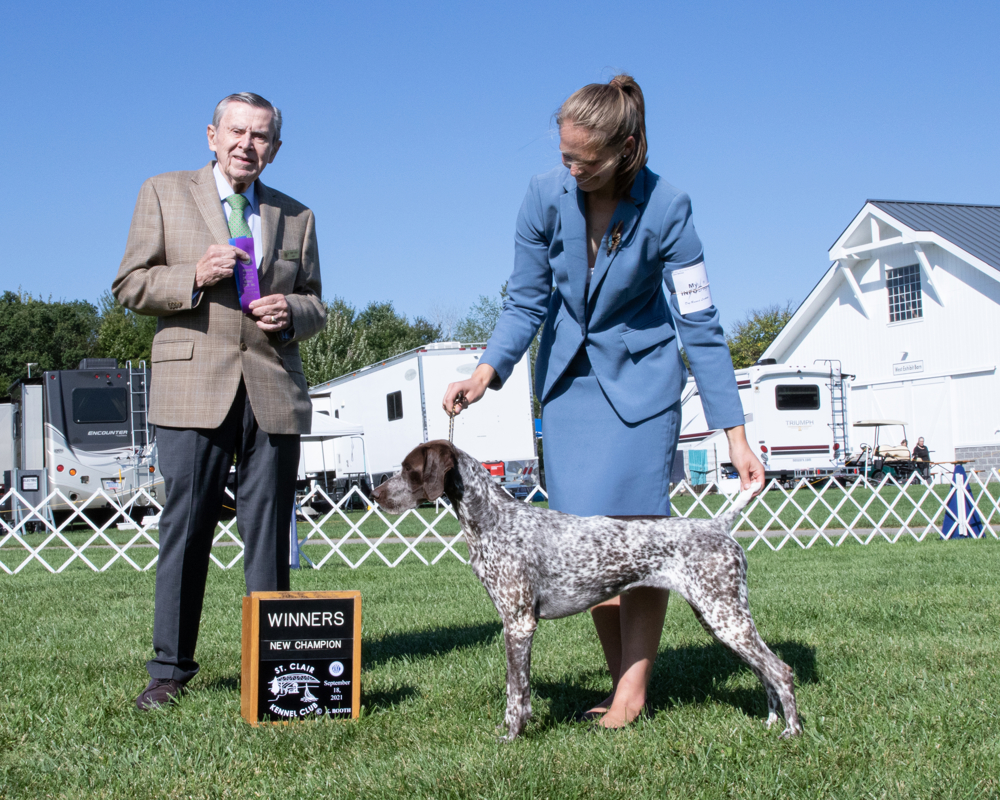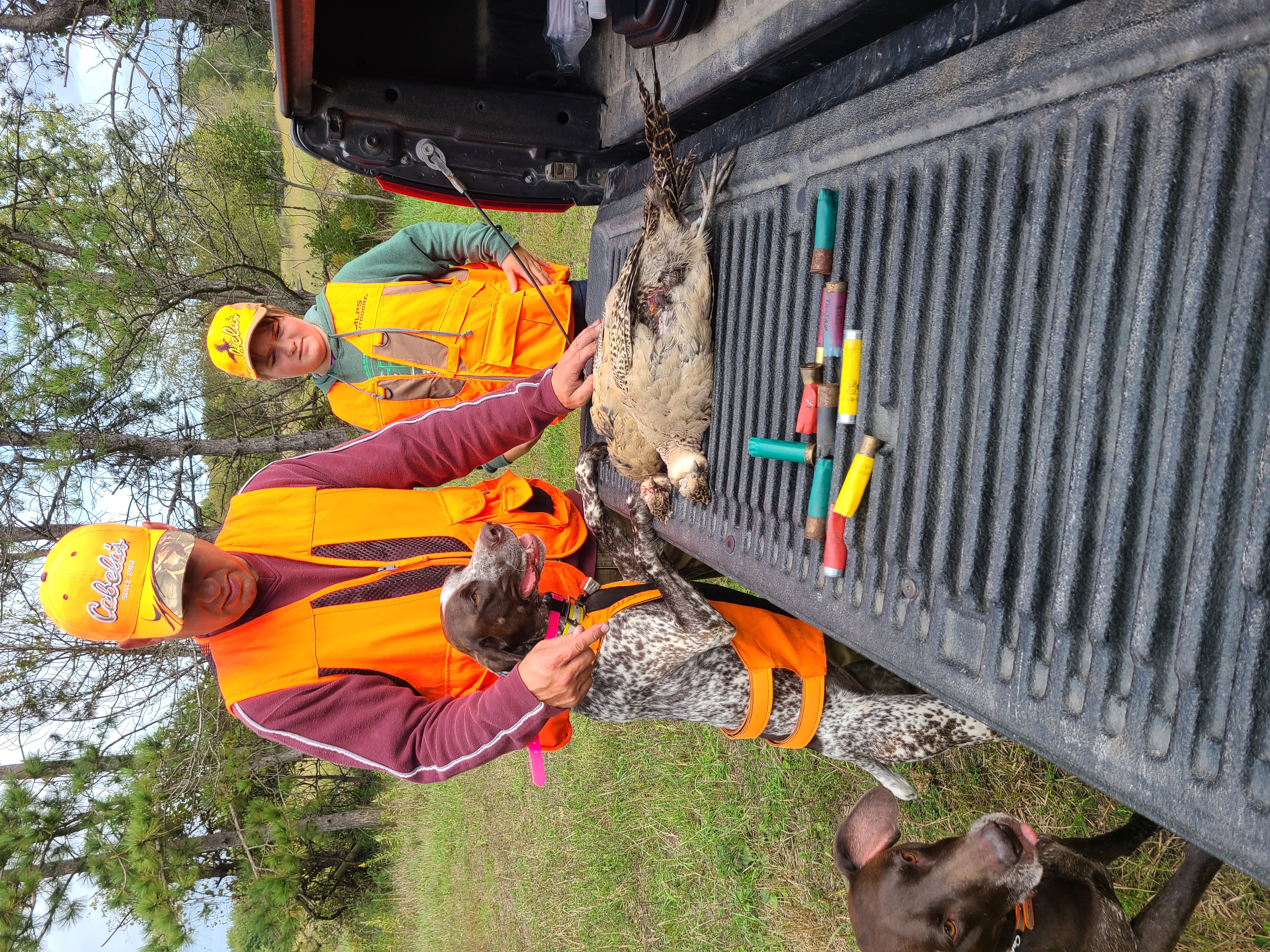 Citori's OFA page can be viewed here.  
Citori's pedigree:
                                               Ch. White River's Ziggy Stardust, JH, GSPCA HOF
                                Ch Schutzen's Lock N Load, MH
                                                Ch. Woodland's Gemn' I Huntabird, RE SH
               Ch. Eastbay's One Night Stand
                                                Ch. Keenose Red Ryder
                                GCh. Eastbay's-N-Brookstone's Trailer Trash, JH
                                                Ch. Asppoint's Daddy's Demon Doll
Ch Adamczyk's High Caliber Citori Blitz, DM
                                                DC AFC Sam Saint Max, MH, GSPCA HOF
                                  Ch. Crystal's Up Close N' Personal, MH RD, GSPCA HOF
                                                Ch. Crystal's Trial Size
               Ch Quinebaug's Estellee Of Abbelane BN CD MH RDX
                                                Abbe Lanes Traffton
                                  Ch. Abbe Lanes Sweet Little Elsie, MH JHR
                                                Abbelane's Abigail Rose