BISS GCHB CH White River Lone Gunman RE JH BCAT CGC VC
Something special from the day he was born - a singleton puppy representing 35 years of a Breeder's hopes and dreams.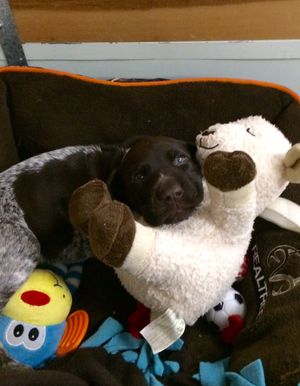 His pedigree pivots on the addition of outstanding German bloodlines to the White River mix, and doubles back on our most significant Sires.
Dillon has let the GSP world know he's a worthy addition:
                         His first Championship points were as Reserve Winners Dog at the 2017 National Specialty from 6-9 Puppy Dog class
                         He finished at 11 months with a Sporting Group 1
                         A Grand Champion at 18 months with very limited showing
                         He is the 2018 GSPCA National Futurity Winner and was the youngest Award of Merit Winner at the 2018 National Specialty
                         In 2019 he let the GSP world know he's now a grown up contender earning a National Specialty Judges' Award of Merit in one of the largest groups of Specials the breed has seen in recent history.  He also added the 'BISS' to his credentials winning the GSPC of Illinois Specialty during the July Regional week in Belvedere, IL.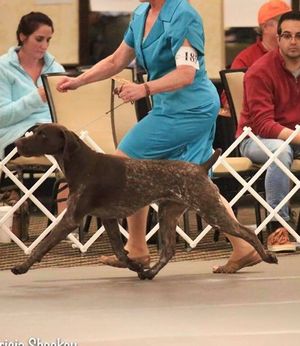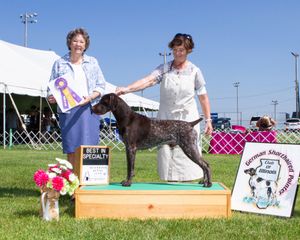 He stepped up as Phil's personal gun dog late in 2018, doing a creditable job for a youngster, had a blast running Fast Cat trials, and has earned his Canine Good Citizen title.  Also during 2019 Nationals week he added the Rally Novice title to his string of suffixes.
HEALTH CLEARANCES  - CHIC #139274
OFA Eye Exam - Normal
OFA Hips Excellent
OFA Elbows Normal
CD Clear/Normal
Cardiac Normal
Von Willenbrand's Clear/Normal
D Locus (Dilute)  D/D Non-dilute
Lupoid Dermatosis   Homozygous Normal/Clear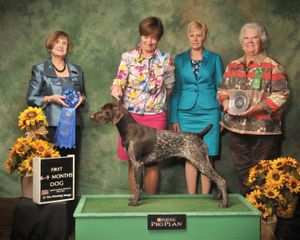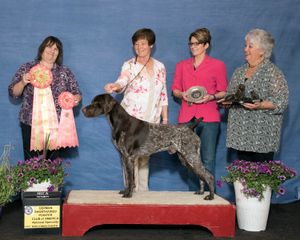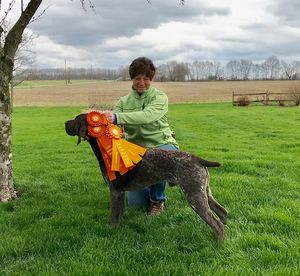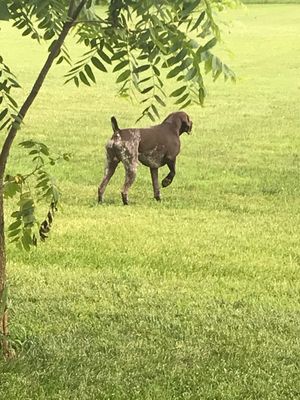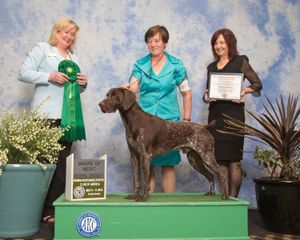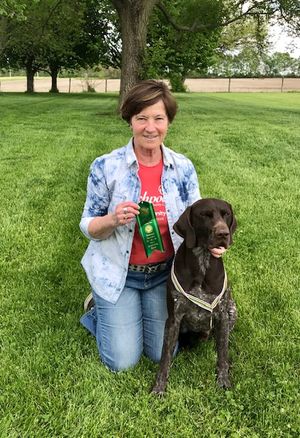 GCH Mi-Karma's Purple Paramour RN NA NAJ NAP DFP CA CGC

CH Shadywood's Howlin' Mad

CH Ruann's Buckshot v. Kingswood

CH Shadywood's Lady v. Kingswood ROM

CH Pengle's TRF Starstruck, JH

CH HH Ruann's Glitter 'N' Glitz JH

CH Mi-Karma's The Color Purple JH RE CD

CH Mi-Karma's Time on My Side

CH Fieldfine Time in a Bottle

CH Fieldfine Heart and Soul

CH SHomberg N Partridge Run's True Colors

CH Shomberg Browning Citori

CH Starlite's Calamity Jane

CH White River Striking Elegance JH CGC

CH Pengle's TRF Striking Image

CH Huntabird's Riverside Reason JH ROM

CH Rising Star's White River Debut, JH

CH HH Ruann's Glitter 'N' Glitz JH

CH Whitney's Leib'lhof Lightning ROM

CH White River Pixie Stardust, JH

CH Huntabird's Riverside Reason JH ROM

CH Rising Star's White River Debut, JH