Where we came from . . . . . .
          Where we've been . . . . . . . . . . 
          Where we're going . . . . . . . . . . . . . .!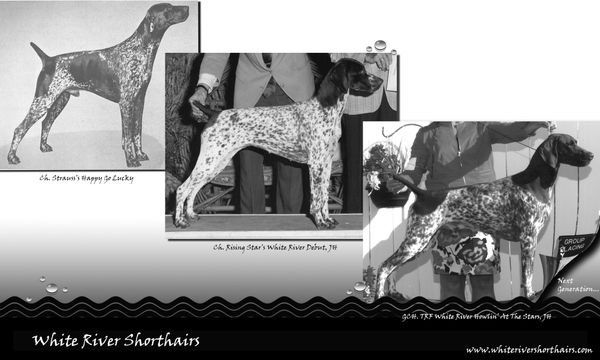 2013 marks the German Shorthaired Pointer Club of America's 50th National Specialty show.  We thought we'd work on depicting the history of our bloodline dating back 50 years.  Above is CH Strauss' Happy Go Lucky, the great all time top producing sire anchoring the the successful Serakrout bloodline nurtured by Ann Serak of Sturdevant, WI.  All White River dogs carry "Lucky" proudly in their pedigrees.  The middle photo is CH Risinng Star's White River Debut JH, signifying the frist litter stamping White River's unique pedigree blend.  The third photo shows GCH TRF White River Howin' At the Stars JH, a current sire bearing our standard.
If you need to research our pedigrees, or see photos of some of our dogs from a few years back, we are archiving the info on our earlier litters here on the History Tab.


       You may have come to this page to read about the Breed's history; we're happy to oblige: